Table of contents
No headers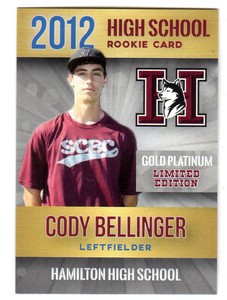 Biography
Cody Bellinger began his competitive baseball career in 2007 with the Chandler National Little League Baseball Team. The team was coached by his father, Carl Bellinger, who spent four years on the New York Yankees lineup. Though Cody was the youngest member of
the team
, he saw his little team to the quarter finals of the
2007 Little League World Series
.
Bellinger stood out in his time at Hamilton High School (Class of 2014) and was regarded highly by his coaches and his teammates. The Hamilton Huskies Baseball team won the State Championship in Cody Bellinger's senior year, voting him as
Team MVP
, and was labeled as the school's
"best season ever."
In less than a month after his championship game, Cody Bellinger had already been contracted to the LA Dodgers and committed to the University of Oregon
.
Cody Bellinger opted for the Dodgers contract over the Oregon commitment, and quickly rose through the Dodgers' AA and AAA levels before getting pulled up to the Major League team mid-season in 2017. Bellinger was brought up to fill in
offensive gaps
in the outfield for the Dodgers and showed off his impressive hitting capability to the Major Leagues.
In an impressive Rookie year, Bellinger's first season to the big leagues was filled with impressive
accolades
such as the National League Rookie of the Year, a Homerun Derby Participant, two National League Rookie of the Awards, an MLB Outstanding rookie, and was in the top 10 to be considered for MLB MVP. He has since moved to his traditional role as a First Baseman for the Dodgers, where he seeks to be a valuable asset to the team.
Chandler National Little League
2007 Made it to the Quarterfinals of the 2007 Little League World Series
Hamilton High
2009-2013
Junior (2012) - .439 BA, 29 R, 31 RBI, 12 2B, 1.870 OPS
Junior (2012) - Team MVP
Senior (2013) - Rawlings Perfect Game 2nd Team All-American
Senior (2013) - Drafted by the Los Angeles Dodgers
Senior (2013) - Team MVP
AZL Dodgers (Rookie)
2013 2013: .210 BA, 9 2B, 6 3B, 1 HR, 30 RBI, 47 games
Ogden (Rookie)
2014 2014: .328 BA, 13 2B, 6 3B, 3 HR, 34 RBI, 46 games
AZL Dodgers (Rookie)
2014, 2017 2014: .150 BA, 1 2B, 5 games
2017: .333 BA, 1 HR, 4 RBI, 1 game
Rancho Cucamonga (A)
2015
2015 California League Mid-Season All-Star
2015 California League Post-Season All-Star
2015: .264 BA, 33 2B, 4 3B, 30 HR, 103 RBI, 128 games
Tulsa (AA)
2016 2016: .263 BA, 17 2B, 1 3B, 23 HR, 65 RBI, 114 games
Oklahoma City (AAA)
2016 - 2017 2016: .545 BA, 3 HR, 6 RBI, 3 games
2017: .343 BA, 4 2B, 5 HR, 15 RBI, 18 games
AZFL Glendale (Rookie)
2016 2016: .314 BA, 8 2B, 3 HR, 17 RBI, 20 games
Los Angeles Dodgers
2017-present
2017: .267 BA, 26 2B, 4 3B, 39 HR, 97 RBI, 132 games
2017 National League Rookie of the Year
2017 Home Run Derby Runner-Up
2017 All-Star
2017 9th Place in MVP voting
2017 LA Sports Council Sportsman of the Year
2017 Players Choice NL Outstanding Rookie
2018: .260 BA, 28 2B, 7 3B, 25 HR, 76 RBI, 162 games